Blockman Go: Cool Arcade Game Free on PC
There are tons of games that offer a multitude of fun mini-games. Roblox is one great example as it's a massive hub for a plethora of awesome arcade titles. It caters to a player's love for fast-paced competitive games. But another title took the next level step in the arcade world.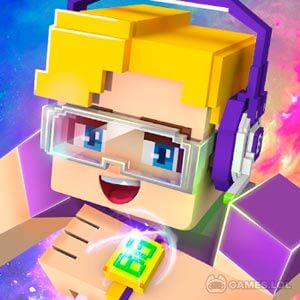 Blockman Go
By Blockman Go Studio | 0 downloads

Blockman Go pays homage to Minecraft with its blocky graphics and allows you to play with block style minigames combined with battle royale elements. Challenge your friends or strangers online in a series of competitive arcade matches. There are a variety of mini-games to choose from! You can have an explosive TNT tag match or even go on an adventure in Voyage Era. It is the next step in immersive arcade gameplay! It's a whole new world specially made to give gamers a fun time!
Amazing Gameplay of Blockman Go
Blockman Go is a platform with many minigames to choose from. You can go on different adventures every time you log in. You can go on an action-packed race, explore the seven seas, or simply engage your friends in blocky battles! In fact, you can even recreate your favorite heroes with Blocky Mods! Since it's a hub of many different titles, you can be sure that you'll never run out of players to compete with! If you need a break then just chat away with people worldwide! You'll never get bored once you enter this awesome blocky world!


This awesome PC game has many features that you can explore. You can have fun with your friends through various mini-games. You can meet new ones too by using the chat. If that's not enough to reel you in then get a load of its character customization options. Style your avatar the best possible way with little-to-no limitations! You can even earn great rewards just by logging in or fulfilling objectives!
The game also employs proper security measures to censor unsavory messages in the chat. It's a very important feature as this game hub is meant to be enjoyed by gamers of all ages. Parents can rest assured that their kids won't be exposed to unpleasant text messages while they're playing.
The Competitive Fun Of Bed Wars
One of Blockman Go's popular mini-games is the competitive Bed Wars. It's a massive online battle arena where your goal is to annihilate the enemy and its Bed. Your task is to build bridges on the islands with the hopes of reaching their base. You can employ multiple tactics to achieve your goal or plan on-the-fly with teammates during the match. There are also various objectives to fulfill and awesome equipment to grab to gain an advantage against your opponents. It's a brawl of pure PC game fun!
Come and join Blockman Go for an unforgettable gaming experience. You'll get addicted to its gameplay in no time! Gather your friends and invite them to play with you for an exciting battle royale game. In fact, you can upgrade the immersive experience by playing the game on PC! Get access to full-screen graphics and customizable keymaps that are exclusive to our version!